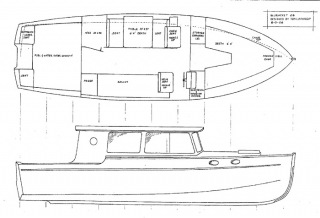 The design of the Bluejacket 28 grew out of requests from prospective builders  who  wanted a boat with the characteristics of the other Bluejacket boats but with more amenities in the accommodation.  One client wanted a larger boat to take long cruises such as the Alaskan archipelago.  Another wanted a boat that offered sleeping accommodations for children.  Another client wanted to build a trailerable boat to avoid the restrictions of a much larger and slower boat that required expensive commercial hauling to reach distant cruising ground.  The resulting boat is an all-new design but still retains the character and classic appearance of the other Bluejackets.  The sheer line has been changed somewhat from the sweeping aft reduction in height to an abrupt drop but still follows one of the classic lines of the early twentieth century.  In aspect, it is still  unmistakably a Bluejacket.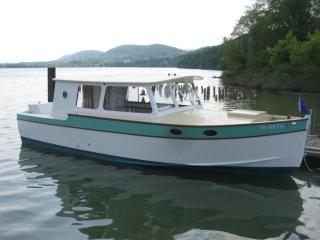 Preliminary calculations revealed that it should be possible to provide the added room and accommodations while preserving the performance and economical operating characteristics of the other boats in the Bluejacket series.  While the larger boat is heavier and requires more power, the critical performance ratios are nearly identical to the others in the series. Fuel use will undoubtedly be increased but, like the Bluejacket 24, will remain much lower than other similar boats.  Scantling thickness of the bottom and side panels have been significantly increased to handle the extra loading expected from the greater forces on a larger planing boat in rougher waters.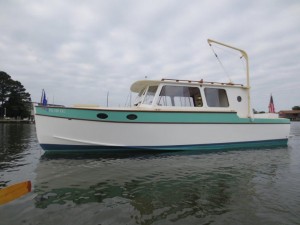 All of the increased length is allocated to the pilothouse.  This will allow a dinette and a larger private head that can be built with a shower.   If desired, refrigeration with adequate room over the pilothouse top for solar power is also possible.  The other desirable attributes of the Bluejacket 24 such as a comfortable and permanent seat for the mate with full view is retained.  The forward sleeping cabin with 6′ 8″ berths and wide foot room that has proven to work so well is also retained.  The increased beam to 8' 6" adds to the available room for all of the above features.
Bluejacket 28 Specifications
Length over all  = 28 feet  =  336 inches
Beam  =  100 inches (hull),  102 inches (incl. rubrails)
Beam, waterline (max)  =  83 inches (hull),  85 inches ( incl. splashrail)
Beam, waterline (transom)  =  72 inches (hull),  74 inches (incl. splashrail)
Headroom (over bunks)  =  37 inches
Headroom (forecabin)  =  56 inches
Berth length = 79 inches
Headroom (pilothouse)  =  78 inches
Weight, dry w/o engine  =  2500 lb
Positive floatation  =  >1600 lb (foam)
Power  =  70hp to 90hp outboard
Displacement, light cruising w/engine, 2 crew, fuel, water & stores  =  3500 lb
Max displacement = 4000 lb
Freeboard, forward  =  48 inches
Freeboard, aft  =  32 inches
Speed, max  =  22mph (70hp), 26mph (90hp)
Speed, cruising  =  11 to 18 mph