Sailing LOON in the  North Carolina Maritime Museum July 4th race around Carrot Island with Carla Byrnes of B&B Yachts as crew.  LOON is a very versatile 15 foot Bay River Skiff designed by Graham Byrnes that sails, rows and motors well on weekends and can work crab pots during the week.  While our boat, Loon sailed on the NC and SC Coast, Chesapeake Bay, Maine, Quebec, Ontario as well as on Lake Superior. Loon was sold to a couple who have sailed in the Great Salt Lake and have taken quite long camp cruises aboard her in the Sea Of Cortez. The BRS15 comes as near to being an all everything skiff as it is possible to have.
http://www.bandbyachtdesigns.com/Baja/Baja%20adventure.htm
LOON as a very comfortable beach cruiser at Cape Lookout, NC.  Easter 1995 with the Cape lighthouse in background.  Mizzen mast moved forward to maximize berth and camping area
This was the first Bluejacket built outside the USA. As many builders do, John Williams made a few minor modifications such as the extended pilothouse top to suit their own desires.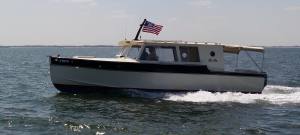 Henry and Dianne Hassell in their just launched Bluejacket 28 De De starting off on the 6,000 mile Great Loop in May 2014.


Bluejacket 24 (photo boat), Bluejacket 28, Bluejacket 25.5 and Bluejacket 27 on ICW cruising from Georgetown to Charleston, SC in October 2013.
Chesapeake sharpie is primarily a workboat but also fun for
leisure outings on the Bay.